Interior House Painting Contractor Near Fairfield, Milford, Stratford, Greenwich
Professional Interior House Painter in Connecticut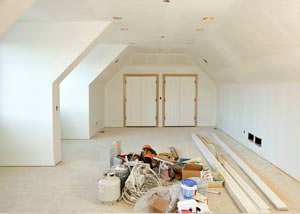 Painting the Inside of a Home
Painting the inside of your house can be a great way to spruce up your home and give it a brand new and polished look.
Usually different rooms in your house have unique styles, looks and feels.
At CT Painters, we apply interior paint and provide services of all types -- we work in kitchens, bathrooms, man caves, living rooms, commercial buildings, and every other kind of room you can think of.
Our Southern CT and Fairfield County service area includes Milford, Stratford, Greenwich, Fairfield, nearby localities such as Ridgefield, New Canaan, Trumbull, Westport, Darien, Southbury, North Haven, Guilford, and many surrounding areas in Connecticut.
For a free interior painting price quote contact the certified, professional contractors at CT Painters today!
Which Paint Is Best to Use on Interior Work?
When you're choosing the kind of paint and finish to use there are a lot of different factors to consider.
Here are a few considerations to make when trying to decide on paint types below.
Why Should You Choose A Professional Painter?
There's more to painting a house than just applying the paint! A professional can consult you on a number of different factors, including:
Appearance & Sheen
Mildew & Moisture Resistance
Stain & Durability Resistance
Health Factors from VOC

Ability To Withstand UV Rays
Heat Resistance (Where Applicable)
Overall Cost
... And Much More!
Before and After
Before

After

2 coats were put on the ceiling, 2 coats on the trim and 2 coats on the walls.

Before

After

We painted this golf clubhouse in Newtown, CT a pale yellow.

Before

After

This bonus room needed 3 coats of white and 2 coats on the trim.

Before

After

Cabinet refacing was done on this kitchen.

Before

After

This room took a dramatic turn once we painted it a darker color.

Before

After

These stairs took a primer with 2 coats and top coats too.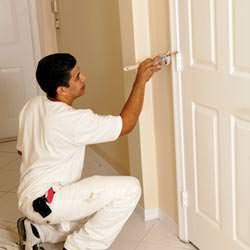 Long Lasting Inside Paint
How many different paints would you use on the kids' room? Ask a certified painter, and you might be surprised by the answer
This is because a professional painting contractor will know that while the walls of a children's room may need to be stain-resistant, durable, and scrubable, your kids aren't likely to reach the ceiling any time soon. They're likely to choose a different kind of paint based on the lighting and traffic of the particular room and area in question.
By the same token, a higher grade or paint finish might be needed in areas prone to constant wear and tear and high traffic areas. A painter is likely to choose a high-grade paint for a doorway, for example, which will be in constant contact with passersby, pets, toddlers, kids and other forces that wear on the paint finish.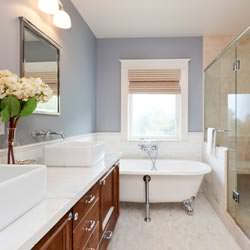 Mold- & Moisture-Resistant Paints
Rooms like bathrooms, hallways, kitchens, basements can be more humid than other rooms or areas of the house. This means your newly painted area could be ruined quickly if the correct materials are not used.
There are types of paint out there that contain antimicrobial properties to help resist mildew and bacterial growth.
For example, in the basement paints may come into contact with damp concrete and water vapor can make its way through brick, stucco, fiber cement, cinder block, etc. When this happens it often flakes and peels off due to the humid environment.
This is because water can react with high PH in the masonry to hydrolyze the vinyl acetate portion of paint binders, which will badly deteriorate the coating films.
This moisture can also create a buildup of a white, powdery mineral salt known as "efflorescence" behind the paint. Together, these forces combine to cause improperly selected paints to peel, blister, and crack off surfaces.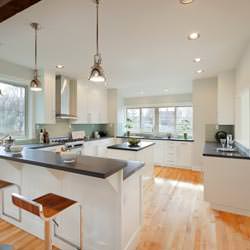 A Sophisticated, Professional Appeal
Is your paint designed for the maximum impact for the room it's going on? A well-lit area such as a sun room will need a paint that's able to hold up to UV rays without fading its colors, while a semigloss paint is ideal for doors, windows, trim and shutters -- providing added protection and visual appeal.
If you're painting a surface with many imperfections, you'll find that it's best complemented by paint that has a matte finish. This type of paint minimizes the reflective light that tends to highlights flaws in the wall, keeping your space looking as good as possible.
Consumer Reports (June 2007) warns that companies are constantly reformulating their paints and stains -- particularly as the EPA tightens its safety regulations. An experienced, painter will be up-to-date on evolving brands.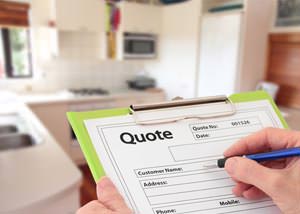 Hire A Fantastic Interior Painting Company
As you may know, the difference in workmanship from one company to the next can be pretty dramatic. When choosing the contrator that's best for you, we recommend considering these factors:
Professional Reputation: A company is best represented by its former clients. Ask your contractor if they have references available, or if it'd be possible to drive by a job they previously completed. You'll also want to research the company online to see if they have positive reviews on online ratings sites, as well as their reputation with the BBB.
Experience & Training: Does the the company have certified experienced tradesmen on hand, or is a large part of their staff college kids and "helpers"?
You'll want your painters to be licensed, bonded, and insured. Membership in a local trade association is also a good sign of an experienced, dedicated company.
Communication & Contracts: Make sure that your painters are willing to answer questions, work with you, and suit the work to your needs.
All proposed work should be included on a written contract that includes the company's name, address, office and cell phone numbers, and their professional license number.
We Offer Professional Interior Painting Services In Connecticut!
When it comes to painting in Connecticut, we're the experts for you! Our specialists take pride in our knowledge of the industry, or professionalism, and our unbeatable results!
It costs you nothing to meet with one of our experts for an on-site inspection of your home! We can provide you with an expert consultation, answer any questions you may have, and provide you with a free written interior painting quote! To schedule your appointment, contact us by phone or e-mail today!
Our company proudly provides interior painting by experienced contractors throughout Stratford, Greenwich, Fairfield, Milford, Trumbull, Westport, Ridgefield, New Canaan, Darien, Southbury, North Haven, Guilford, and many surrounding areas.
Looking for a price? Get a no cost, no obligation free estimate.